Why include the Washington Group (WG) questions on a census, if they are included in the survey infrastructure of a country? Most indicators for the Sustainable Development Goals (SDGs) come from household surveys. These include household income and expenditure surveys, demographic and health surveys, labor force surveys, UNICEF's multiple indicator cluster survey, etc. To disaggregate SDG indicators by disability status, as explained in a different blog entry , a country simply has to add the WG questions to existing surveys. If this is done, why then take up potentially expensive space on a census form to also include the WG questions there? What is gained from including the WG questions on a census that can't be obtained from household surveys?
There are several reasons to include the WG questions on a census:
Geographic patterns: The prevalence of disability is influenced by many factors that can vary geographically. Only a census can enable a country to identify regions with high rates of disability that can help isolate the causes of disability. In the diagram below, from a Vietnam census, you can see how much these rates can vary[1].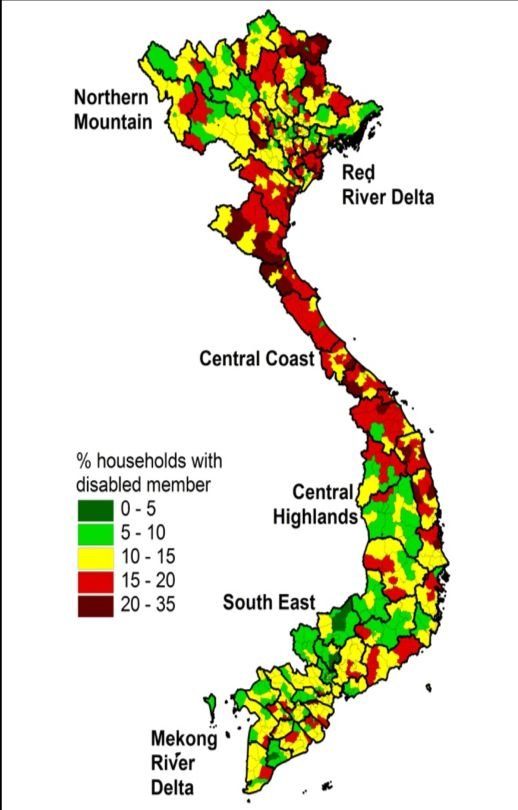 Demographic patterns: A household survey may be large enough to compare the prevalence and outcomes of disability by gender or age, or even by rural and urban residence, but looking at smaller sub-populations, such as comparing rural men with rural women, may not be possible with those samples.
Analyzing by type of disability: People with different types of disabilities can face very different barriers to participation. Often household survey samples are not big enough to have statistically powerful results when comparing people with different types of disability (e.g. mobility, cognition, sensory, psychosocial, etc.) especially if there is interest in gender differences.
Small area estimation: If the census and surveys both use the WG questions it is then possible to statistically match the two sources of data. That is, combine the power of the large number of respondents in a census with the extensive information on people's lives gathered by surveys. Censuses, by their nature, do not collect information on a lot of variables, but the number of observations are huge. Surveys collect a lot more detailed information, but for that reason their sample sizes are much smaller. Being able to statistically match surveys and censuses allows for small area estimation. That is, being able to make meaningful estimates for the relation between disability and a variety of factors not included on a census for districts or cities that are not possible using surveys alone. From the same study mentioned above, statistical matching in Vietnam allowed for estimates of the disability poverty gap at the district level. The results showed that the poverty gap between people with and without disabilities varied widely across Vietnam (see below). Further analysis showed that district characteristics like better roads, more doctors, and better commune communication infrastructure was correlated with smaller disability poverty gaps, providing evidence that improvements in the environment can lead to improvements in the lives of people with disabilities.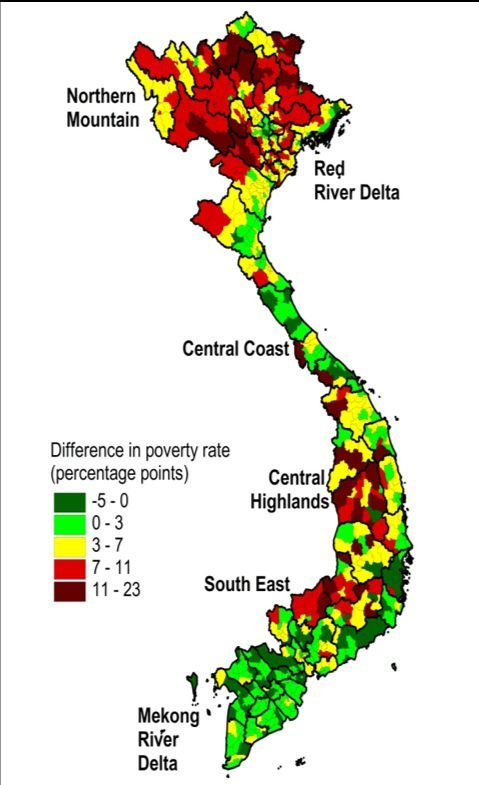 Information from the survey alone was not detailed enough geographically to make these distinctions. Information from the census did not have enough information to generate the poverty gap. Combining the two types of tools allowed for deeper analysis – but that was only possible because both instruments used the same questions on disability.
[1]Mont D and Nguyen CV, "Spatial Variation in the Disability-Poverty Correlation: Evidence from Vietnam," Social Research Indicators, doi:10.1007/s11205-017-1619-z, 2017